Chim Thai - Delicious Thai Cuisine - Rototuna
"A relaxed and delicious dining experience.."

Chim Thai is an authentic Thai Restaurant in Rototuna, Hamilton.
Our food is carefully prepared on site by genuine Thai chefs using quality ingredients and the freshest herbs and aromatics. We utilise ethically sourced and environmentally sustainable foods and packaging where known and possible.
Along with a delicious variety of main and dessert dishes, we have our unique Thai-style Tapas and other 'share plates' - check our menu's below.
To compliment your meal we offer a selection of beer and fine wines, plus there are many non alcoholic options available.
Join us for a relaxed dine in experience (whether indoors or on the terrace) or order to take-out...you won't be disappointed!
Latest News
Chim Thai will be open on Friday 14th July being Matariki Public Holiday and there will be no surcharge.
Chim Thai has acquired a sister restaurant, Thai Classic located at 783 Victoria Street Hamilton. Should you be unable to book a table at Chim Thai, often we are fully booked, then please try Thai Classic. You will find the style of Thai cuisine at Thai Classic very similar to Chim Thai.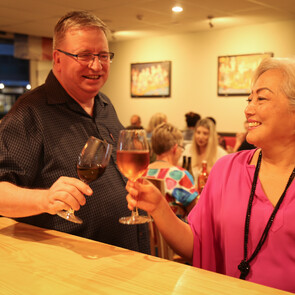 Reviews
Trip Advisor review:
Reviewed 3 April 2023
Pleasant environment, great food
Great choice. Tasty food, good variety, open and airy premises, and staff were pleasant. Extensive menu which makes choosing difficult, but we chose 3 dishes to share with 3 ladies (all came with a serving of rice also), and was plenty.
Google Reviews:
Jo-Ann Anderson 14 May 2023
Very good. Food was sizzling hot, very quick service, delicious food. It was a Saturday night, very busy but still a relaxing, happy atmosphere 😄Food: 5/5 | Service: 5/5 | Atmosphere: 5/5
Recommended dishes Crispy Pork Belly, Honey Roasted Duck
Jessica Oosthuizen May 2023
The food is always INCREDIBLE. The service is great and the turnaround is super fast. I've never had a bad meal or any issues. Even though we live in Auckland now we still make the effort to go when we are in Hamilton because I dream about their crispy pork and dumplings!
Varun Nand April 2022
This establishment serves outstanding food! I absolutely loved my Pad Thai. Will definitely be back!
Open: Tues-Sun for lunch 12 pm to 2.30 pm and for dinner 5 pm-9 pm
Closed: We are closed on Mondays.
Reservations: Recommended for dinner- We will do our best to meet any special requests such as allocation of a particular table, however this will depend on availability. We appreciate your understanding.
Unit 9/111 Thomas Road,
Rototuna, Hamilton
New Zealand

Phone: (07) 855 5194
Email: delicious@chimthai.co.nz