Chim Thai - Delicious Thai Cuisine - Rototuna
"A relaxed and delicious dining experience.."

Chim Thai is an authentic Thai Restaurant in Rototuna, Hamilton.
Our food is carefully prepared on site by genuine Thai chefs using quality ingredients and the freshest herbs and aromatics. We utilise ethically sourced and environmentally sustainable foods and packaging where known and possible.
Along with a delicious variety of main and dessert dishes, we have our unique Thai-style Tapas and other 'share plates' - check our menu's below.
To compliment your meal we offer a selection of beer and fine wines, plus there are many non alcoholic options available.
Join us for a relaxed dine in experience (whether indoors or on the terrace) or order to take-out...you won't be disappointed!
Latest News
Our summer menu has launched. We have a new vegetarian selection in our Tapa's menu. Our fresh Tapa's menu also includes a yellow fin saku salad. Premium Tuna, lightly marinated in a delightful citrus salad. This dish has the wow factor! Come and try.
We are now open for lunch (12 pm to 2.30 pm) from Tuesday to Sunday; come and give it a try! Dinner hours are from 5 pm to 9 pm six days a week, Tuesday to Sunday. Bookings are advised. To learn more and see our menu click the menu link below.

We are highly rated on Trip Advisor, see a selection of reviews below and a Waikato Times review HERE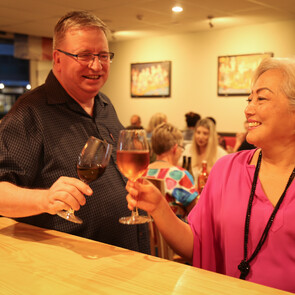 Trip Advisor reviews:
Mouthgasmic!
My taste buds are like so satisfied right now.. Super quick service, friendly staff. Thank-you
waikatomike February 16, 2021!

ChimThai. :)Fantastic Thai Food
We decided to have Thai on Saturday night and after looking at reviews, decided to give Chim Thai a try. Was fully booked but they managed to squeeze us in as long as we were out by 6.30pm. Saw about 8 takeaway meals going out in the 50 minutes we were there so figured the reviews were spot on. Had a couple of Tapas dishes and two mains to share between the 3 of us. Each one beautifully presented and full of flavour. The Pad Thai presentation was awesome (I wont give away too many details) and whilst looking small when it first arrived, the basket was bigger than it looked and there was plenty to go round. Next time we'll be trying the Duck dish too as this looked amazing when it came out for others who were dining. Could not fault the service - all staff very friendly and helpful. Everything was clean and tidy and the food was first rate.
petermJ8070GU

November 2020
Highly Recommend if you are looking for Beautiful Food at an Affordable Price for a function at home
We had 25-30 friends at our house for my husbands 50th birthday party. We have eaten at Chim Thai before and thought their food was amazing. I spoke to Chim Thai asking if they would do food for 25-30 people that I could pick up and take home. This was absolutely no problem for them, the food was exactly on time when I arrived and the quality was incredible. Really outstanding. I cannot recommend them enough for anyone that is having a function at home and wants to take the hassle out of cooking yourself, and been able to serve some beautiful food. Our guests were blown away - am sure there will be quite a few of them visiting Chim Thai now for their dinner! Thank you so much Chim Thai, your food is definitely top notch, and was a lot more affordable then several other places I had contacted.Awesome
Beautiful food, coped with a big group no probs. Will be going back. Desserts to die for. Great service and quick bringing 12 meals out
Chris and Beryl W
Date of visit: July 2020

Outstanding food and service - a gem!
We were super impressed with this warm and friendly restaurant. The staff were all top notch, service was speedy and the food was interesting and delicious. Highly recommended!!
Date of visit: July 2020
Nomad782748
Date of visit: January 2020
Amazing!
Amazing all round! Very friendly service from everyone who worked there and the food we ordered was simply delicious! We were very pleased with everything we had ordered and the speed in which our food started coming out was super speedy. 5 stars all round!...More
DeonMax
Date of visit: January 2020
Delicious!
We celebrated a birthday here last night and it was fabulous! Delicious food,very hard to choose from the menu! Even with a couple of our group having particular food requirements. Lovely friendly service......very hospitable. We shall return!
alliward884
Date of visit: January 2020
Fantastic Dinner
After researching Trip Advisor for good restaurants, my wife and I booked at Chim Thai during our vacation to New Zealand. Wow, that was a great decision. We had the honey glazed duck and the black pepper lamb, both as good as we've had anywhere. Both arrived at the table sizzling hot and were accompanied by a variety of tasty stir-fried vegetables and white rice. We devoured it.
The meal was so good that we booked again for tomorrow, our final day in NZ. Do yourself a favor and dine at Chim Thai.
Larry B
Date of visit: November 2019
My husband brought me to lunch here a year or so ago after being introduced to the restaurant by his boss. Since then we have been back with friends, family, and for more dates like the first. The service is always warm and welcoming, fast and efficient. We have explored the menu over our many visits and are always delighted by the fresh flavours, the beautiful curries and sauces. The larb goysa are a firm favourite entree that we highly recommend. We cannot speak highly enough of the friendly attentive staff, and wonderful cuisine. See for yourself!
Date of visit: October 2019

Laura K
Open: Tues-Sun for lunch 12 pm to 2.30 pm and for dinner 5 pm-9 pm
Closed: We are closed on Mondays.
Reservations: Recommended for dinner- We will do our best to meet any special requests such as allocation of a particular table, however this will depend on availability. We appreciate your understanding.
Unit 9/111 Thomas Road,
Rototuna, Hamilton
New Zealand

Phone: (07) 855 5194
Email: delicious@chimthai.co.nz