Chim Thai - Delicious Thai Cuisine - Rototuna
"A relaxed and delicious dining experience.."

Chim Thai is an authentic Thai Restaurant in Rototuna, Hamilton.
Our food is carefully prepared on site by genuine Thai chefs using quality ingredients and the freshest herbs and aromatics. We utilise ethically sourced and environmentally sustainable foods and packaging where known and possible.
Along with a delicious variety of main and dessert dishes, we have our unique Thai-style Tapas and other 'share plates' - check our menu's below.
To compliment your meal we offer a selection of beer and fine wines, plus there are many non alcoholic options available.
Join us for a relaxed dine in experience (whether indoors or on the terrace) or order to take-out...you won't be disappointed!
Latest News
Dine in closed Thursday 19th May for Lunch and both Lunch and Dinner Friday 20th May to Sunday 22nd May.
Sorry everyone but due to the number of our staff that are unwell we have been left with no choice but to close the DINE IN restaurant until next week from Friday. We will however be open for TAKEAWAYS Friday, Saturday and Sunday evenings from 4pm.
We again apologize for this but hope to be back open next week as usual.
CLOSED FOR LUNCH
From 18th May 2022 to 24th May 2022.
Due to kitchen staff not being well we are closed for Lunch from Wednesday 18th May 2022 until Tuesday 24th May 2022.
Closed Mondays.
Any change to these arrangements will be posted on our facebook page.
We are highly rated on Google and Trip Advisor, see a selection of reviews below and a Waikato Times review HERE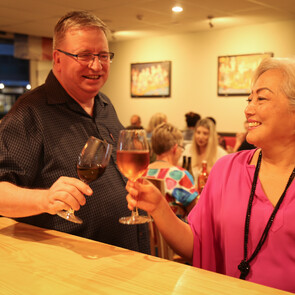 Google Reviews:
Reviewed April 2022
Good food and great customer service

Varun Nand
This establishment serves outstanding food! I absolutely loved my Pad Thai. Will definitely be back!
Lynley Allison
Local Guide·28 reviews·37 photos
2 weeks ago
I found the staff very attentive and freindly. This place is not 20 far from Hamilton central which is good enough for family gatherimg and celebrations! You better try this place if you are very fond of eating outdoor.
Will visit this place next time soon!
28 reviews
2 weeks ago
Delicious food, prompt & polite service!
4 reviews
a month ago
Love the food, great service, highly recommended. 1 of my favorite places to eat!!😍
Trip Advisor reviews:
Reviewed 17 April 2022
Superb food!
The food was outstanding! My Pad Thai was superb, and my family members thoroughly enjoyed their meals too. It was a Friday night, and busy! Many takeaway orders were being filled whilst we dined in. The staff were friendly and got all our orders correct. Will definitely be back!
Reviewed 11 August 2021
Regular customers here and the food never fails to please! Our family has several different diertary requirements (coeliac, vegan) and there is plenty of options for all of us. Ten of ten
Date of visit: August 2021
Chim Thai had amazing service, with a large variety of food options to choose from. Great for families and friends :) Date of visit: April 2021
Reviewed 14 April 2021
Delicious!
Chim Thai had excellent service with a great range of menu items. The food came out so quickly and was so delicious. Great vibe for friends and family! Will definitely go back :)
Date of visit: April 2021
Bright and cheery dining room, helpful and attentive staff, sensilbe menu. We enjoyed all the dishes we ordered - fresh ingredients and spicy without getting too carried away. And good value for money. Pretty much as advertised on the tin. We would definitely return !
Date of visit: March 2021
AllanJGJ
Chim Thai. :)Fantastic Thai Food
We decided to have Thai on Saturday night and after looking at reviews, decided to give Chim Thai a try. Was fully booked but they managed to squeeze us in as long as we were out by 6.30pm. Saw about 8 takeaway meals going out in the 50 minutes we were there so figured the reviews were spot on. Had a couple of Tapas dishes and two mains to share between the 3 of us. Each one beautifully presented and full of flavour. The Pad Thai presentation was awesome (I wont give away too many details) and whilst looking small when it first arrived, the basket was bigger than it looked and there was plenty to go round. Next time we'll be trying the Duck dish too as this looked amazing when it came out for others who were dining. Could not fault the service - all staff very friendly and helpful. Everything was clean and tidy and the food was first rate.
petermJ8070GU

November 2020
Highly Recommend if you are looking for Beautiful Food at an Affordable Price for a function at home
We had 25-30 friends at our house for my husbands 50th birthday party. We have eaten at Chim Thai before and thought their food was amazing. I spoke to Chim Thai asking if they would do food for 25-30 people that I could pick up and take home. This was absolutely no problem for them, the food was exactly on time when I arrived and the quality was incredible. Really outstanding. I cannot recommend them enough for anyone that is having a function at home and wants to take the hassle out of cooking yourself, and been able to serve some beautiful food. Our guests were blown away - am sure there will be quite a few of them visiting Chim Thai now for their dinner! Thank you so much Chim Thai, your food is definitely top notch, and was a lot more affordable then several other places I had contacted.Awesome
Beautiful food, coped with a big group no probs. Will be going back. Desserts to die for. Great service and quick bringing 12 meals out
Chris and Beryl W
Date of visit: July 2020

Outstanding food and service - a gem!
We were super impressed with this warm and friendly restaurant. The staff were all top notch, service was speedy and the food was interesting and delicious. Highly recommended!!
Date of visit: July 2020
Nomad782748
Date of visit: January 2020
Amazing!
Amazing all round! Very friendly service from everyone who worked there and the food we ordered was simply delicious! We were very pleased with everything we had ordered and the speed in which our food started coming out was super speedy. 5 stars all round!...More
DeonMax
Date of visit: January 2020
Delicious!
We celebrated a birthday here last night and it was fabulous! Delicious food,very hard to choose from the menu! Even with a couple of our group having particular food requirements. Lovely friendly service......very hospitable. We shall return!
alliward884
Date of visit: January 2020
Open: Tues-Sun for lunch 12 pm to 2.30 pm and for dinner 5 pm-9 pm
Closed: We are closed on Mondays.
Reservations: Recommended for dinner- We will do our best to meet any special requests such as allocation of a particular table, however this will depend on availability. We appreciate your understanding.
Unit 9/111 Thomas Road,
Rototuna, Hamilton
New Zealand

Phone: (07) 855 5194
Email: delicious@chimthai.co.nz